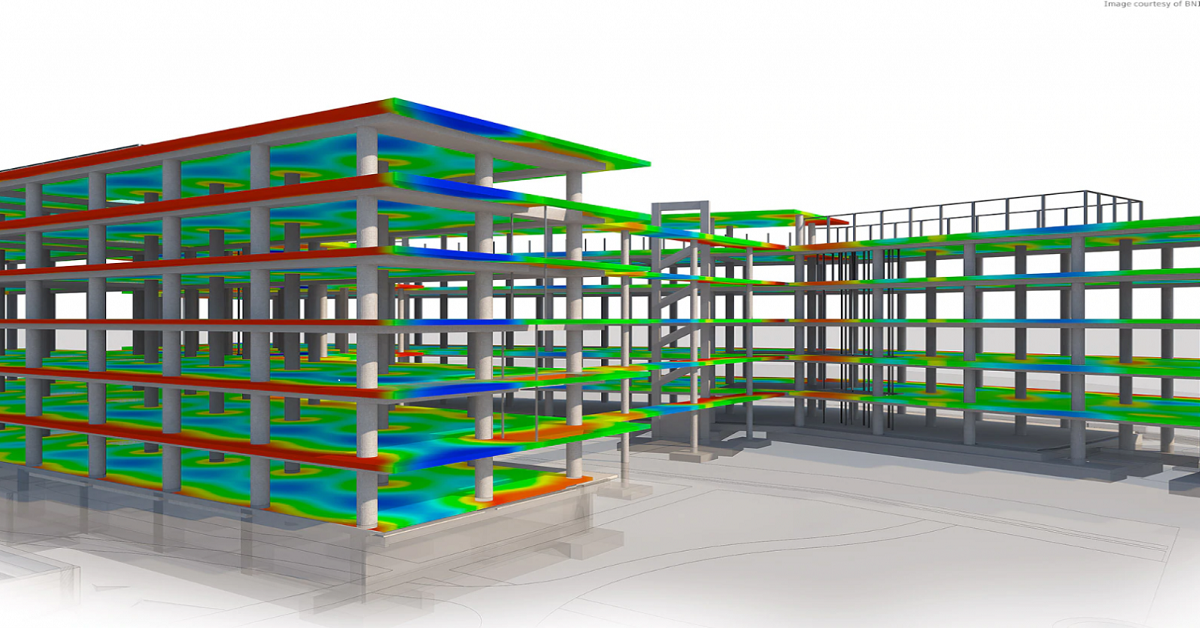 Today's structural engineers are supporting bold, futuristic architectural design with ever more complex and challenging structural schemes. Advances in engineering and design software enable engineers to take advantage of automation and return to a focus on creativity.
Integration and collaboration with architects, building services and contractors is now happening at earlier stages to allow the whole team to design and build better buildings. At the core of this process is digitisation. Structural engineers have always been at the forefront in the use of computer technology for structural analysis and will continue to lead the way into the future.
3D Reinforced Concrete Modelling
Reinforced concrete detailing has traditionally been carried out using 2D processes with CAD software such as AutoCAD. The bar bending schedules are then manually prepared with the use of tools such as Microsoft Excel.
Today, all major projects have a mandate to be designed and modelled using 3D BIM software such as Revit and this process is naturally propagating down to medium and small projects due to productivity, efficiency, and cost savings.
We are at a pivotal point in the industry where digital delivery, manufacturing processes and on-site technology are challenging the traditional working practices and 2D deliverables. This is just one example of a smarter, connected, sustainable future in engineering and construction.
Supporting Architecture
We are currently in challenging times, but we believe that it is also an exciting time to be in engineering.
The Structural engineering profession is one of the key enablers for the high-rise structures that slice through our skylines and define our cityscapes. Many of the new iconic designs are very organic and require a high level of innovation and imagination to create efficient, economic structural frames. Computation design software is enabling engineers to design structural systems that could previously not have been fabricated, constructed, or realised.


CANTER CADD being ISO 9001:2015 certified, the best CAD training institute can make a candidate's profile strong and eligible to grab the trending jobs in the market. Moreover, the courses are offered by highly skilled and trained professionals to offer valuable knowledge to the candidates.



Locate CANTER CADD – The Best ansys Training Institute in Hyderabad-Mehdipatnam-Ameerpet-Himayatnagar-Dilsukhnagar-Habsiguda-Boduppal-ECIL-Santoshnagar-Chandanagar-Alwal-Kukatpally-Secunderabad-Warangal-Hanamkonda, Bangalore-Marathahalli-BTMLayout-Electronic City-Yelahanka-Banashankari-JPNagar-Srinagar-Hulimavu-Chamrajpet-Horamavu-Vidyaranyapuram, Andhra Pradesh-Guntur-Nellore-Kurnool-Rajahmundry-Tirupati-Dwarakanagar-Vizag-Vijayawada, Delhi NCR-LaxmiNagar-RajendraPlace-Rohini-Adhchini-Kalu-Sarai-, Pune-Akurdi, Tamil Nadu-Coimbatore, Uttar Pradesh--Gazhiabad-Meerut, Kerala, , Mumbai, Nagpur.